Founded in the first 20 years of the 19th century, on an area of 2 hectares, exists Dikanka's famous lilac grove. This grove is of unique significance and considered in the same league as the best gardens in Ukraine. The grove was originally a quarry from which they removed clay for Kochubay's brick factory, and later, on this same land, one hundred lilacs were planted.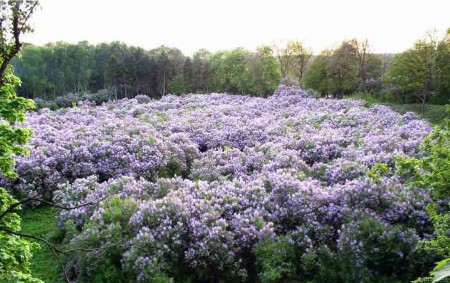 The lilac grove in Dikanka is a well preserved domestic settlement. It symbolizes the connection between long ago and today, between long standing folk customs and modern life. From generation to generation various stories are passed on that tell us about former owners of the Kochubay farmstead, including the troubled fate of the daughter of one of them – Anna, who was very ill and was transported by her father from St. Petersburg to the family house in Dikanka where it was said that the lilac grove was planted for her pleasure, on the location of the former brick-making plant, as a form of treatment.
When the lilac are in bloom, all people are overwhelmed by the beauty, and over the years, many people visit to see this splendor and enjoy. At this time, in the lilac grove, many people visit during the weekends to enjoy the beauty, dance, relax and celebrate a folk holiday. This spring holiday of nature is named after the «Songs of the Lilac Garden». This holiday has become an annual regional celebration, celebrated not only by people from the Poltava region but from many cities from throughout Ukraine. It is important for the entire Poltava region.